Our darling  Sri Lakshmi Devi, the Goddess of Light, is the daughter of the Ksheerabdi, the ocean of milk (the milky way.)
She was born when the ocean of milk was churned and married Sri Maha Vishnu on the same day. The 12th day of of Karthika Masam is Ksheerabdi Dwadasi. Everyone in Bangalore is off buying or acquiring little branches of amla (gooseberry) branches.
(Amla is very very rich in vitamin C and gives resistance to the colds and flus that winter might bring). Vishnu loves Amla and is glad to see it in every home!! And if that is not enough the lamps are made out of  lemon rinds turned inside out! (Lots more vitamin C from the lemons!)
And they are going to worship Devi with lamps. (Dwadasi starts around 11pm tonight and lasts till around midnight tomorrow as per Sri Sringeri Lanka Venkateswara Siddhanthi's calendar).
The festival of lamps that starts with Deepavali (Aswiyuja Amavasya) continues throughout the festive Karthika Masam – called Karthika Deepalu. Karthika Masam Mondays are favorite days to worship Siva. The first 6 days of Karthika Masam, there are festivals to Skanda (Kumaraswamy, Subrahmanya Swami, Shanmukha) in Tamil Nadu. In Andhra the 4th day of Karthika Masam is called Nagula Chavithi. Nagula Chavithi and Karthika Pournami (full moon) are days for fire-cracker burning. Karthika Masam in Andhra is also famous for Vana Bhojanalu – Moonlit Dinners.
The spiritual seekers are up before dawn and  turn to the east to pray.
The brightest full moon occurs close to the winter solstice, which occurs in the month following Karthika Masam. (Margasira Masam). That is when the moon is nearest the earth (its perigee) and the earth is nearest the sun. The moon is closer (therefore bigger) and receives 7% more sunlight and is therefore brighter as well.
Kartigai Deepam as related to Arunachaleswara
Ksheera Sagara Mathanam (Location) ; Ksheera sagara: Ocean of milk: The milky way; Nakshatras, Masas, Rtus, Varas, Rasis, Specialities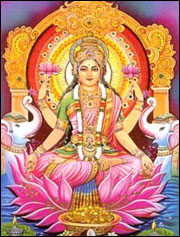 Authorship and Copyright Notice : All Rights Reserved : Satya Sarada Kandula